Nursery Rooms
Looking to decorate a room and turn it into a nursury for the little? Here are a few pics to give you some ideas
Dont try and go too over the top in the nursery as it wont be long before you have to change it again. Those little ones grow up faster than you think. If you choose simple colors for the nursery it wont be too difficult to update as they get older.
Light yellows are a popular color for nurseries as they as a splash of interest without going to far over the top.
White painted furniture also works well in babies and young childrens room, is easy to clean and will hopefully last if you buy quality pieces that can easily be repainted as they get worn or when you want to change colors.
Some prefer to keep their nurseries gender neutral but it really is a personal choice. If your decorating before the baby arrives then that might be a good idea.
Its always a good idea to have brightly colored accessories and soft furnishing in the nursery to catch the babies eyes and help with stimulation and interest.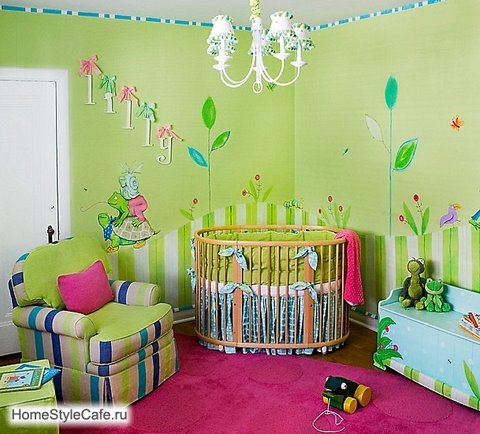 Stickers are a nice touch in a kids room or nursery as they get older, and can easily be removed once they grow out of them.
A chest of drawers with a changing area on top is pretty much an essential if a new baby is coming so try and choose a quality one that can either be repurposed or passed on in good condition to friends or family members.
New York Apartment Interior Design
Again quality furniture can always be repainted to suit taste to and make it look as good as new.
Nursery Rooms
Nursery Rooms